Sign Up and Get a Chance to Win!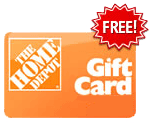 Sign up for a FREE account, you can save your searches and favorite homes along with notes and ratings. Be one of the first to know about new listings, open houses and price reduced listings. Everyone that signs up will be entered into our drawing for a $100 Home Depot Gift Card.
Already have an account?
Login
Forgot Password?
By clicking Create Account, you are indicating that you have read and agree to the Terms of Use and Privacy Policy